To place a bet, simply click on the price button in the desired market within the trading window. This action will automatically open the bid panel and display a prepared bid. The price in the bid will correspond to the pressed price button, and the size will be set to a default value.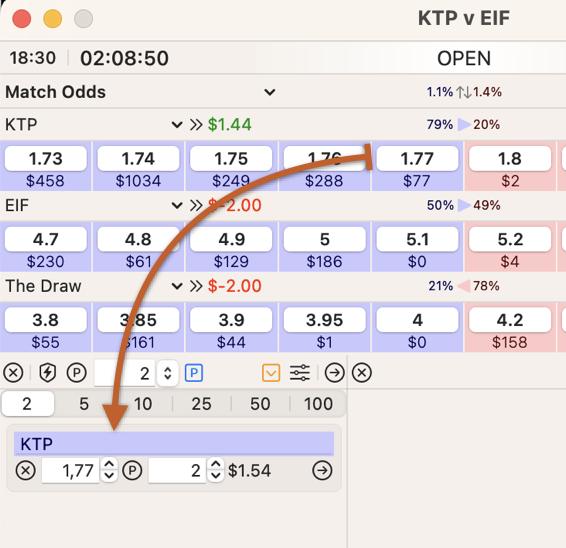 In the bid panel, you have the flexibility to adjust both the price and the size of your bet. You can manually enter a new price or use the provided controls to modify it. Similarly, you can change the size of your bet by entering a new value or using buttons that offer a list of pre-prepared sizes.
After making any necessary changes to the price and size, you can proceed to confirm your bet. Once confirmed, your bet will be submitted to the market for execution.

If a bet is not matched, which can occur if the market price has changed or if the order is specifically placed with a price higher (or lower) than the market price, it will be displayed in the middle section of the betting panel. This section shows the unmatched bets that have been submitted to the exchange but have not found a matching counterpart yet.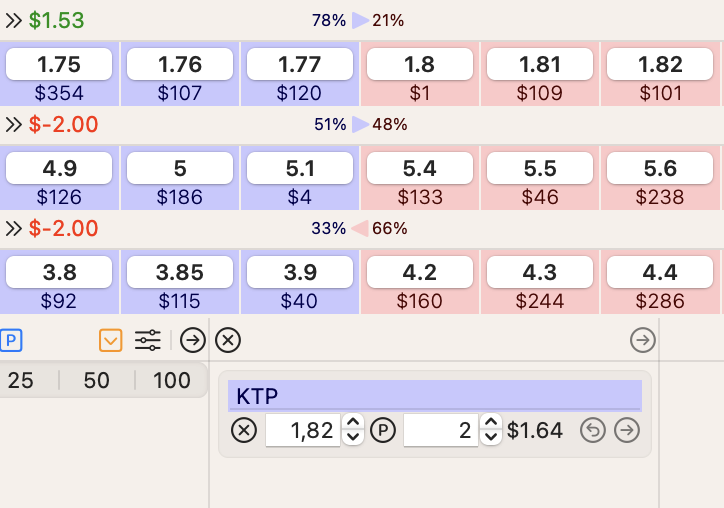 When a bet is unmatched, you have the option to modify the price or size of the bet, or cancel it. However, it's important to note that in an unmatched bet, the price and size can only be changed separately. This means you can adjust the price without affecting the size, or adjust the size without changing the price.

The results of the matched bets are calculated and displayed above each price section in bold type. This value represents the potential outcome or result that would occur at the close of the market if the corresponding section is determined as the winner.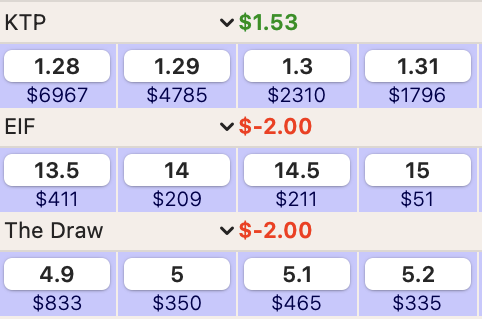 For unmatched bets or newly formed bets that have not yet been submitted to the market, the possible result value is calculated and displayed in regular font after the ">>" symbol. This indicates the projected market value if all these outstanding bets are successfully matched.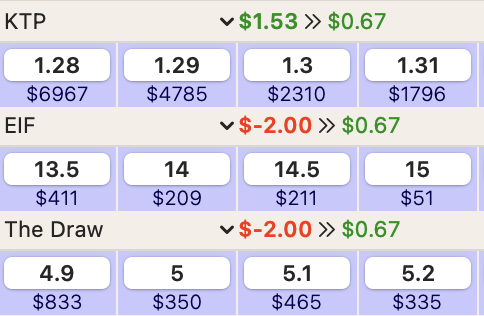 These result indicators helps assess the potential outcomes of bets, both for the matched bets that are already in the market and for the unmatched bets that are yet to be executed.